ProDyn Academy
Productivity Dynamics Academy makes expertise acquired over the years available to HR professionals and executives through a series of carefully orchestrated learning experiences, including real-world case studies, hands-on collaborative learning, and follow-up online knowledge-sharing and practice-building activities.
Mission:
The mission of Productivity Dynamics Academy is to enable HR professionals and executives to help their organizations achieve significant business results through the definition, design, and evaluation of learning and performance improvement solutions.
Offerings:
Target Audience: Professionals and executives Human Resources (e.g., Learning and Development, Workforce Planning, Talent Management, Business Partners), Human Performance Improvement, and Organizational Effectiveness.
Length & Format: Each learning series consists of a 1-day face-to-face workshop and a follow-up 2-hour webinar three weeks later to share lessons learned from the application of what was learned in the workshop and to build a practice community. The webinar allows participants to interact with the facilitator and other participants. They will be able to ask questions, share successes and barriers to applying what they learned in the workshop, and get valuable hands-on advice for moving forward.
Productivity Dynamics Academy offers a series of four workshops: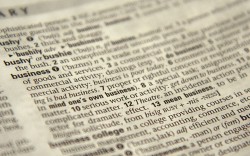 Defining business requirements is a critical first step in the systemic process of creating high-impact learning and performance-improvement solutions